The secret to securing a healthy income in retirement is knowing what you want. Here are some key questions to help you get started.
What age do you plan to retire at?
What sort of lifestyle do you want?
Have you paid off all your debts?
Will you need additional money for other needs, eg buying a new car or going on a holiday?
Once you have considered what you would like to achieve, we can work with you to understand your goals, and formulate a strategy to put you on the pathway towards retirement.
A couple needs $1,165 per week to live comfortably in retirement.*1 That's achievable if you plan properly.
 Budget for retirees aged around 65 (June Quarter, 2018)
Modest Lifestyle

Comfortable Lifestyle

Single

Couple

Single

Couple

Total per year

$27,425.00

$39,442.00

$42,953.00

$60,604.00
 *1 & table:  ASFA Retirement Standard, courtesy ASFA (The Association of Superannuation Funds of Australia Limited)
What is considered a modest and comfortable retirement lifestyle for younger retirees?
A modest retirement lifestyle is considered better than the Age Pension, but still only allows for the basics.
A comfortable retirement lifestyle enables an older, healthy retiree to be involved in a broad range of leisure and recreational activities and to have a good standard of living through the purchase of such things as; household goods, private health insurance, a reasonable car, good clothes, a range of electronic equipment, and domestic and occasionally international holiday travel.
Both budgets assume that the retirees own their own home outright and are relatively healthy.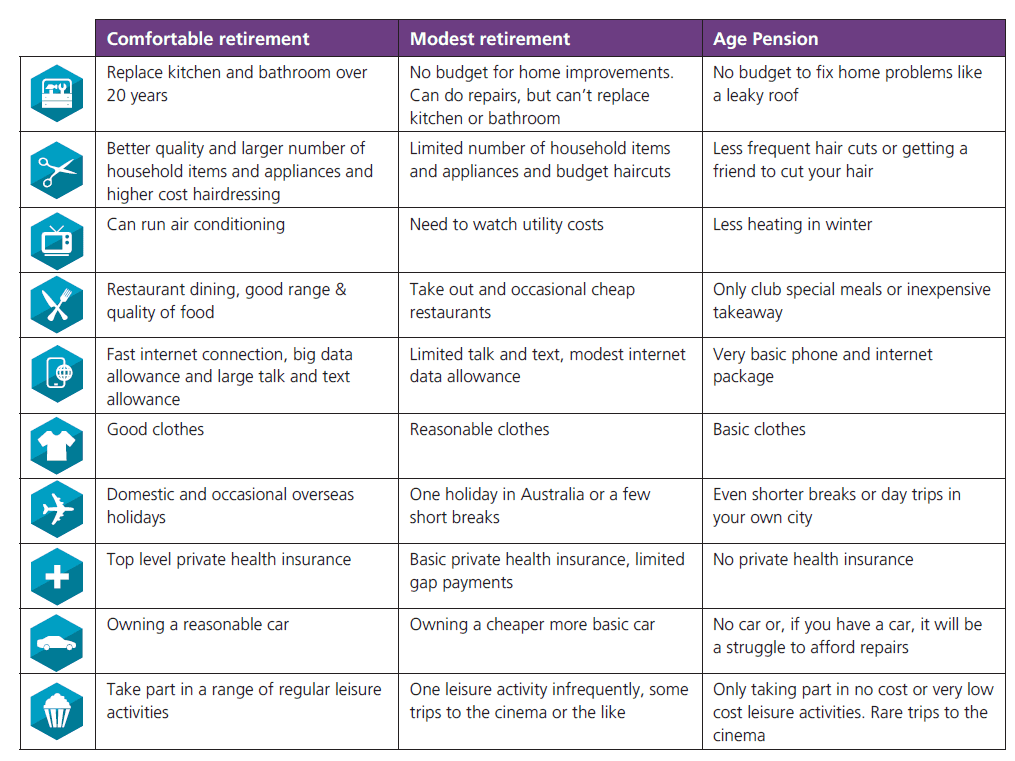 Retirement comparison & table ASFA Retirement Standard, courtesy ASFA (The Association of Superannuation Funds of Australia Limited)
You have a 50% chance of outliving your retirement savings by 13 years.*2
Planning for retirement (now we've asked the tough questions).
Most people don't realise there's a good chance they'll spend up to 30 years in retirement, and many people aren't financially prepared (this is called longevity risk) and should be managed.
A great approach to retirement is to think about the income you need to support the lifestyle you want to maintain, how you'll generate that income and how to protect the income you generate from risks such as inflation.  We're here to help you navigate your journey towards retirement as well as enjoy & maintain it once you're there.
We can employ various strategies, including Centrelink (if you are eligible).
We have included buttons below to the ASFA Retirement Standards & Detailed Budget Breakdowns for the June 2018 Quarter.
We charge a fee for our strategies rather than commissions on product sales.
Book an appointment (first hour is complimentary) so that we can begin planning your future, today.